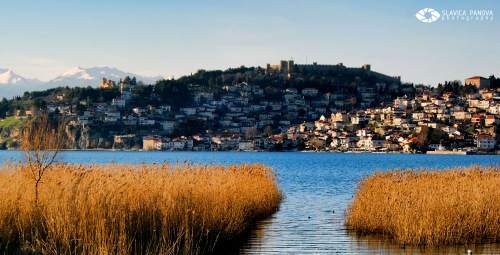 THE CITY
"If you bathing in Lake Ohrid on a sunny day and suddenly emerge from its depths, breaking the surface for a moment, you will see on the pale blue expanse all around you silvery, transparent bubbles, big and small. In each of them the Sun is doubly reflected, like two focuses of different sizes. Approaching one of the bigger bubbles, holding your breath for fear it may burst, you can see in it, as in a distorting mirror, the reflection of your face, wet and laughing. And all the time, that bigger sun, like a vast star, hangs over your head. It all lasts for just an instant, like all beauty, yet it is repeated over and over again"...
Ivo Andric, Nobel Laureate (excerpt from travelogue "Beside Luminous Lake Ohrid")
"Don't let that powerful water mesmerize you with sleep. It has such a power: it mesmerizes you to sleep, enchants you, and then attracts you to itself with its magic. And you will stay in Ohrid for many days and years, and you will keep coming back."
Branislav Nušić, Writer (excerpt from travelogue "On the Shores of Lake Ohrid")
"No other lake contains so many different species of fish, especially the fish called eel... The lake is the elixir of life."
Evlya Chelebi, Ottoman traveler who journeyed the Ottoman Empire over 40 years
FACTS:
The City of Ohrid resembles a white swan embedded in the sorrounding deep blue water and indigo mountain scenery. Suspended on the rock, the town raises on the northern shores of the lake high above the water, reflecing its beauty in the crystal clear waters. The Lake od Ohird, one of the deepest and oldest in Europe, was once surrounded by 365 churches, one for each day of the year, some dating from the 4th century. The rich architecture is embellished with numerous monasteries, churches and mosques, and ancient relics dating back 3,800 years. Those jewels of Byzantine architecture, warm, touching and mystical, rightfully crowned the city to as the "Balkan Jerusalem" or "European Jerusalem".

Greek Lihnidos, Illyrian Desaretia, Roman Via Egnatia, Sts. Kliment and Naum, Tzar Samuilo, the fascinating Churches of St. Sofija, St. Pantelejmon, St. John Kaneo, St. Naum, the events and actors have changed through time, but the city suspended on the rock, stood still, outliving it all. Its name and glory stood the tests of time, proving to be everlasting and everbeautiful. It is small wander then, that this world wander is included in all top-turist destinations. Recently it was listed among top 10 best value destinations by Lonely Planet, included in the 30 world cities recommended to tourists by New York Times, and profoundly promoted on CNN and National Geographic, as well as other media.
FIGURES:
| | |
| --- | --- |
| Coordinates | 41°07′01″N 20°48′06″E |
| Total Area | 383.93 km2 (148.2 sq mi) |
| Total Population | 42,003 |
| Density | 142.97/km2 (370.3/sq mi) |
| Postal / Area Code | 6000 / +389 46 |
| Patron Saints | Sts. Clement and Naum |
| Useful Links | Official and Touristic City Portal |
THE COUNTRY
And she, Deucalion's daughter,
of Zeus, the thunderer,
bore two sons:
Magnet and Macedon-a cavalryman, a warrior..
Hesiod, historian, 7BC (from "Catalogue of Women")
FACTS:
Macedonia is a small continental, landlocked country in the heart of Balkans, bordering Albania, Bulgaria, Greece, Kosovo and Serbia. It is a land rich with mountains (over 80% of the surface is mountainous, and there are up to 10 mountain peaks above 2000 meters) and lakes (Lake Ohrid, Lake Prespa, Lake Dojran and 10 smaller natural lakes and artificial accumulations). It is described as a "paradise" for outdoor types with numerous opportunities for skiing, hiking and climbing.
Macedonia has literally thousands of sites where relics can be found going back 3800 years. Skopje, the capital, has evidence of 2500-year history under Roman, Byzantine, Ottoman and Yugoslav rule. It is a city on the Vardar River that combines Communist-era tower blocks with an Ottoman-era Old Town and place where the east meets the west. The whole Macedonian experience is engrained in this versatile city, this cultural and administrative center. However, the culmination of the Macedonian experience is the city of Ohrid, a kingdom of light and water, a repository of ancient ruins from Macedonia's earlier kingdoms.
FIGURES
| | |
| --- | --- |
| Coordinates | 42°0′N 21°26′E |
| Total Area | 25,713 km2 (9,779 sq mi) |
| Total Population | 2,050,671 |
| Density | 82,2/km2 (205/sq mi) |
| Official Language | Macedonian |
| Capital | Skopje |
| Currency | Macedonian Denar (MKD) |
| Useful Links | List with touristic websites |
THE CONFERENCE
"Metropol Lake Resort"
TRANSPORT
The city of Ohrid is accessible by plane, by bus (through Skopje Bus Station) or by car. Ohrid has an international airport: "St Paul the Apostle" about 7 km from city center which connects Ohrid with Belgrade, Ljubljana, Zurich, Dusseldorf, Tel Aviv, Vienna, and Amsterdam. The airport is open year round but most airlines only fly during the summer, so check with your travel agent or airline for most current information. Also, there is a regular bus service from Skopje and the ride usually takes approximately three and a half hours.

More information can be found on GETTING TO page.